I have read all three of these over the last few weeks and I have enjoyed every single one. My favourite was probably Billionaire Boy, because it was absolutely hilarious. Mr Stink and Gangsta Granny were also funny, but had some sad moments in too.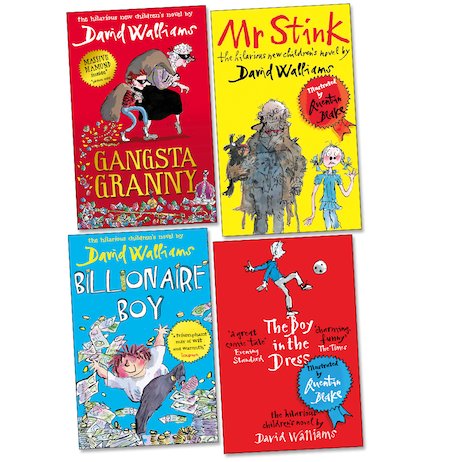 Billionaire Boy is about a boy who's father is (not surprisingly) a billionaire. He became rich by inventing an incredible new type of toilet roll (wet on one side and dry on the other). The boy has absolutely everything he wants in his life, except friends. He is bullied by his classmates at his posh school, so moves to the local school. A new girl soon joins the school and is very keen to become his friend. However, all is not as it seems...I loved the fact that this book makes you think carefully about what is really important in your life- is it having lots of money, or is it being happy with good friends?
Gangsta Granny tells us the story of a boy called Ben, whose life is extremely boring and predictable. Every Friday after school he has to go and visit his granny, who just wants to play Scrabble and make him eat cabbage pie. He hates going and never has anything to say to her. One day he finds out that his granny used to be a famous jewel thief, and together they plan a daring raid to steal the Crown Jewels from the Queen. Unfortunately (and predictably) it all goes horribly wrong. Ben soon realises that his granny is far more interesting than he ever thought and realises how mean he has been to her.

Did anyone watch Mr Stink on TV over Christmas? The book is just as good!
If you haven't yet tried a David Walliams book, I would suggest you get down to the library and get one out NOW. Once you have read one, you'll definitely want to read all the rest! If anyone has read any of these, I would be really interested in hearing what you think in the comments box below.

I'm now about to start reading One Dog And His Boy by Eva Ibbotson. I normally enjoy her books so I am really looking forward to this one. Sadly, it was the last book that she had published while she was still alive.
Mr Biddle